Our garden centre is providing the following services:

Landscape gardening

Complete gardens

Irrigation systems

Laying lawns

Mowing lawns

Lawn aerifying (Verticulation)

Fertilisation

Renovating lawns

Garden maintenance

Cutting trees
Landscape architecture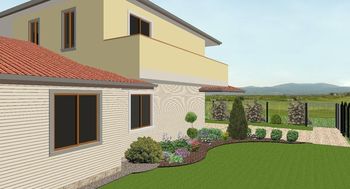 There are a lot of ways how to arrange our garden to enjoy yourself well in it. It depends merely on you what style to choose, what items to utilize, what plants to have around. The aim is clear, we want to make a beautiful environment where we can be close to nature. Just like building a house, creating a garden also requires a well-planned process. As the part of this planning process are your own ideas, imagination and requirements, which are really important for us. They serve as the starting point to build your dream-garden. Before starting the project, it has to be clear how you want to utilize you exterior. If you like meeting people your garden will be a gathering place for your friends and barbecue parties. If you prefer more intimacy, we will make you a perfect place with a bench, surrounded by trees and bushes, to relax, meditate or read a book without being disturbed.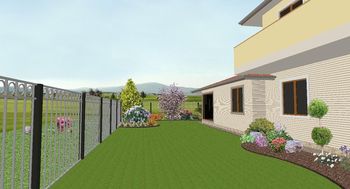 It is quite important to match usefulness with the aesthetically pleasing. This is why we are always trying to arrange your garden in the way to make all your dreams come true, what is more, to have it effectively built.
1st step
Visual inspection of the terrain, learning about the needs of the owner, measuring and photographing the area, making a sketch about the main distribution network under the surface, according to the needs of the customer working out the sketch of the new garden.
2nd step
The customer approves the plan of the garden and its parts (path, pavement, terrace, lawn, pool, moor, rocks, temporary/mobile plants)
3rd step
After the customer agrees with the sketch, the planting plan and all the accompanying documents are prepared. The customer decides if he executes the project himself or has it done by our company.
4th step
If the customer decides to have the project done by us we prepare an estimate for the field engineering. After the mutual agreement the works will be started. After finishing, the garden is handed over to the owner. Quality is guaranteed.
5th step
The investor can ask for further services. We will look after the garden throughout the year or will look after it on their own.
Irrigation systems
Our company provides a full service regarding automatized irrigation systems. After processing your needs, we give you an reasonable estimate, and do the work on a professional level.
What is an automated irrigation system?
This system provides the necessary amount of moisture exactly to the desired area. A well-equipped system saves you a lot of time and of course water. The biggest advantages are to save water due to precisely aimed irrigation, controlling the irrigation depending on the weather using sensors, economical ways of irrigation and better utilization of water, minimalization of vapour during night time, saving you time compared to manual watering and undoubtedly fast economic return of initial costs.
Why should you have such a system?
You are busy earning your living and you have no time watering your plants
You want to have a garden without worries
The price of water and energies is constantly rising, the effectiveness of their utilization is inevitable
Your plants in your garden are always "fit"
You can go for a longer journey without worrying about your garden
Probably, you would not be happy if the irrigation started in a rainy weather or when it is really windy and the drops of water would end up in your window. Just to avoid this we offer to attach to the system a sensor for rain and wind. After the sensor gets dry the irrigation is restored. The wind sensor stops irrigation in case of a strong wind.
Realization process
Each irrigation system is thoroughly examined and planned via professional software.
Irrigation system components
1. Sprinklers
1.1 Spraying sprinklers
1.2 Rotating sprinklers
2. Controlling devices and electromagnetic valves
The irrigation system is controlled by the main unit Hunter with a transformer run by 24 V. The control unit is interconnected with cables to each electromagnetic valve opening or closing water-delivery to every section. Within an irrigation cycle each programmed section is opened gradually.
Establishing lawns
Areas with lawns make up about 60 to 70 per cent of the terrain around detached houses. Lawn is an exceptional item unifying other elements of a garden. Establishing lawns is a complex activity that has to be done in a correct time sequence and according to the chosen method just to have a successful establishment.
Methods of establishing lawns:
Sowing
Sodding (grass carpet)
Sowing
Establishing lawns using sowing is the most common and cheapest way used. Each mixture of seeds contains a mixture of grass. The right choice of mixture depends on the aim the lawn will be used for. Spring sowing (from April till June) guarantees a quality grass carpet. While sowing the seeds in summer it is important to apply a high amount of additional irrigation. For the seeds the best conditions are uniform moisture of the soil and temperature over 8 °C. Sprouted seeds should not dry, this is why we have to start with uniform irrigation avoiding over-irrigation washing the seed up. Before sowing the seeds all the nutrients have to be added to ensure the growth of grass. Using this method there is a bigger care required in the beginning and the costs of chemicals are also higher.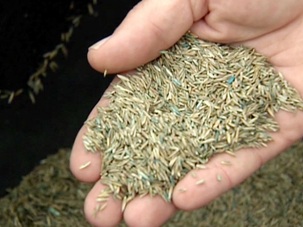 Sodding – Grass Carpets
Grass carpets are popular with customers because of the quickness and the certainty of establishing lawn. The soil beneath grass carpets has to be equally well-prepared as with sowing. The soil has to be supplied with nutrients and be weeded. Laying ready carpets has several advantages: quickness especially in areas with erosions, quick renewal of the damaged lawn, no need for weeding after establishment, a net against moles – no more ugly molehills in the middle of lawns thanks to this net put under the carpet.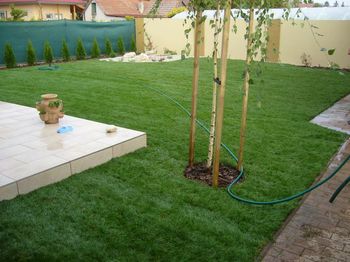 Mowing lawns
In case of not obeying some basic rules, mowing can be quite stressful for the plants. This then influences the physiology of plants and the speed of growth. When deciding about the height of mowing the type and category of these plants is really important (rolled, sown, loaded, recreational, decorative, scenic).
With newly established lawns we decrease the height of mowing gradually:
| | |
| --- | --- |
| 1. | 1st mowing at 80-100 mm to 60-80 mm |
| 2. | 2nd mowing at 80-60 mm to 60-45 mm |
| 3. | 3rd mowing at 60 mm to 40-35 mm |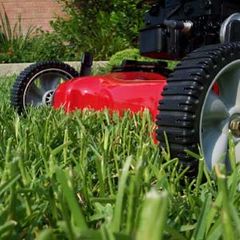 With football pitch lawns the height of the carpet can be gradually decreased to 20-35 mm, with golf courses depending on the lawn to 20 mm (fairway) or even to 4-7 mm (greene).
Rules: Mowing loaded lawns as often as needed to remove 1/3 of the assimilated area. Breaking this important rule we greatly lower the amount of the assimilated area and also the time of its regeneration.
Carpet lawns:
Decorative lawns should be cut to 30-40 mm. The first mowing of carpets should be after 7-10 following the laying. An important factor is the additional irrigation using lower amounts (5-10 mm) for one week and a consecutive watering of 15-20 mm twice a week.
Aerifying (Verticulation)
The mechanic cutting through of the surface layer of the grass sod, just to get rid of its felting, limits the growth of weed with wide leaves, improving the water intake and fertilizing.
Aim:
To aerify the upper part of the growing part of the sod
Increasing air circulation, improving the intake of water and nutrients
Increasing light supply
Supporting the growth of roots
Limiting the growth of weed
The period recommended for aerifying is from April to the end of September, i.e. during the whole growing season. Aerifying is possible on a mown surface up to 30/40 mm. We recommend cross verticulation, in a 90° and bigger angle and lengthways.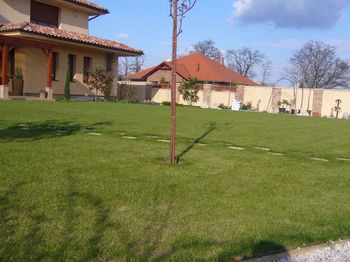 Fertilizing
4 reasons why our gardens need fertilizing:
Visual inspection
The lawn may look nice from a certain distance, but through a detailed inspection we can see a lot of empty areas, weed and damaged places. Fertilizing helps your garden look nice from a shorter distance.
Regeneration
Mowing exposes lawns to stress and limits its ability to change the sunshine, water and CO2 into nutriment.
Cross breeding for better performance
Nowadays the grass types are cross-bred to look very nice, however, they need special care to look as we desire.
Water detention
Fertilized lawns will form a thick grass divot with a rich root and this structure helps to retain water in the surrounding roots and helps to absorb water.

Scotts Landscaper Pro uses mineral fertilizers with a gradual nutrition release with the purpose of a long-distance, non-stop and healthy growth of your lawn.
High amount of available nutrients
Reliable nutrient release during a longer period
Long-lasting and caring about your plants
Keeping plants well-balanced – the growth of dense and strong root systems over the surface
Pure organic fertilizers, mineral agricultural fertilizers
These fertilizers release nutrients quickly and unpredictably causing a quick growth with insufficient nutrition. Excessive release of nutrients causes a quick growth of the upper part and a need for mowing and getting rid of the mown material. The root system does not have to grow thanks to the excessive and immediate nutrient supply.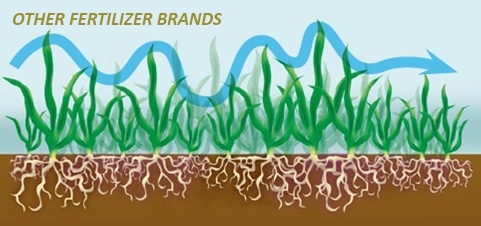 Landscaper PRO – phased nutrient release
Nutrients are released gradually, i.e. no growth curves occur due to periods lacking or having excessive nutrients. Phased nutrient supply creates a stronger grass divot, more resistant to load. A non-stop and even nourishment also supports plants to develop a stronger and deeper root system, which is more effective with water intake and more resistant against drought.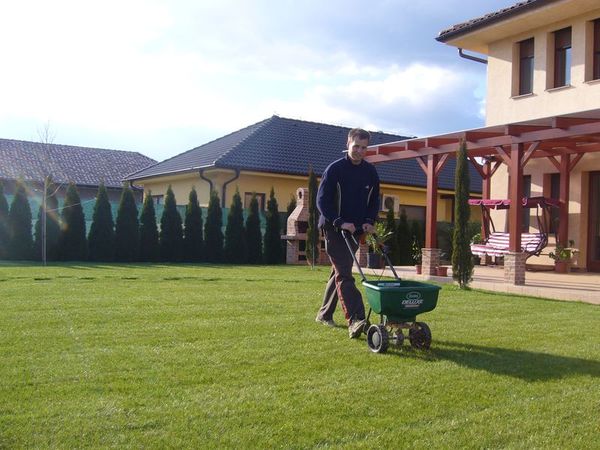 Maintaining gardens
Are you too busy and you want your garden to be looked after?
Mowing lawn and looking after of the plants is not your cup of tea?
Spring is approaching, the lawn has to be aerified and fertilized after winter and you do not own the proper equipments?
Off for a longer journey and your garden needs maintenance?
Your equipment has just broken down and your lawn has to be mown?
You own a company or a hotel and you would like to arrange the works by a contactor?
These can be some of the reasons why you should utilize our services.
The year-round maintenance includes a thorough care about the garden or the part of it.
Spring (March-May)
Aerifying lawns
Fertilization
Activating automated irrigation systems
Trimming decorative bushes, shrubs and hedges
Planting trees, woody plants, perennials and annuals
Summer (June - August)
Mowing and fertilizing lawns
Weeding lawns
Spraying against illnesses and vermin
Outplanting container plants
Autumn (September - November)
Aerifying lawns
Maintaining and preparing automated irrigation systems for overwintering
Autumn fertilization
Sanding lawns
Outplanting or transplanting
Planting fruit-trees